The minute I saw the "New Star Rising" Quilt from Huntspatch Quilts, I knew I wanted to replicate it. I usually take inspiration from a quilt and then change the pattern and colors, but I wanted to stay true to the inspiration for this beautiful quilt (although his quilting is far more advanced than mine!). When my dear friend Natalie got pregnant shortly after me, I knew I had found the right moment to tackle it.
There's been such a wave of new babies in our community of friends that I haven't been able to keep up, but I knew I wanted to make one for Natalie. When I was only a few weeks along and only my family knew we were expecting, Natalie intuited it. When I was having a hard pregnancy day, she knew exactly what to say. When I was overwhelmed with the immensity of it all, she was one of the first friends I'd turn to. I'm not sure what my pregnancy journey would have looked like without her support – and I can't wait to see her transform into the strong and intuitive mama I know she'll be. So this quilt was meant made for her sweet daughter-to-be.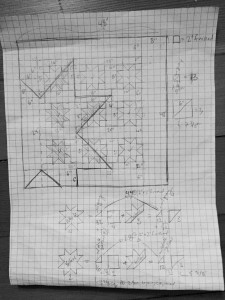 The pattern for this quilt is deceivingly complex. It appears simple with its sparse colors and elegant design, but the tricky bits came in the larger star. It took me quite a while to pattern out, measuring each edge and angle on graph paper that made me feel like I was back in geometry class  (the third time was the charm!). The only change I made from Huntspatch's design was to make the quilt square – I love square baby quilts since they feel more versatile between blanket and play mat.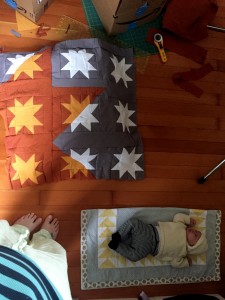 I wanted the transparency to land as cleanly as possible, so I stuck with solids for this quilt. The yellow and orange are once again Kaffe Fassett's shot cotton in butter and ginger. The white stars are flannel to provide some varying texture.
This was my first full project after Clark was born, but he's been a champ in letting me quilt in small doses through the day (maybe knowing that it's going to one of his future play-mates?).
Here's the final product, edged in a dark grey Kona cotton, and quilted with straight lines in perpendicular directions in and out of the orange star:
And the simple back with a grey flannel zig zag and single pinwheel: