Usually when I start a quilt for someone, the pattern and color come easily – I will roll an idea over and over in my head until the image is fully formed. But when we found out we were pregnant in early last year, I couldn't picture what a quilt would look like for our little one. How can I wrap up all the excitement, love, intention, fear, possibility and hope into one quilt? The more I thought about it, the less sure I was.
So it took me a long time to start a quilt for my son-to-be. I ended up picking a few words to get me started – I wanted it to be warm and celebratory. I finally found this beautiful Gingham Spring Quilt by Suzy Quilts – it reminded me of confetti, a happy celebration to match all the excitement we felt.
I knew I wanted saturated colors, and settled on rich oranges and sunny yellows. I picked fun greys for the remaining confetti and for my neutral splurged on Kaffe Fassett's "latte" shot cotton (the weft and warp in his solids are different hues, creating a stunning richness).
I wanted each piece of the confetti to be unique, so I cut each wonky triangle by hand. I added extra padding of grey on all three sides, and then re-cut the triangle to the right shape.
Just the front was complete by the time our little Clark June was born, but I finished the quilt within the next few weeks, with my son sleeping next to my rumbling sewing machine.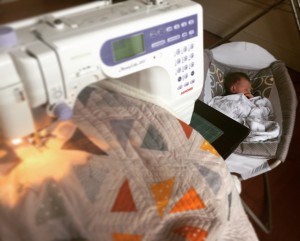 Each orange starburst is quilted with a spiraling hexagon, and the remainder of the quilt is quilted with diagonal lines an inch apart. Here's the final product:
The back is a soft flannel, with a strip of a constellation fabric that I fell in love with, two triangles in orange and gold (made out of a scrap from my wedding dress), and two bands of orange that hold a hand-stitched note to my sweet boy:
Even through I'm happy with the final product, it could never begin to summarize the joy that this little guy has brought to our lives…